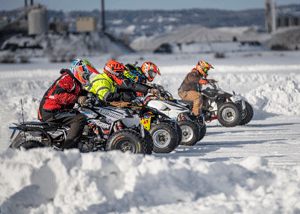 **CANCELLED DUE TO ICE CONDITIONS** Midwest Ice Racing Association
Unfortunately, MIRA has had to cancel their racing events due to ice conditions. BUT – join us for all the other fun activities happening both indoors and outdoors!
Midwest Ice Racing Association is a non-profit group that races Motorcycles and Quads on the ice just next to the S.S. Meteor! This exciting event allows you to get up close to the action. Come one and all to experience how FAST winter can be!
ENTRANCE FEES: $12 per person, kids 5 and under free
Dates and Times
Friday, January 27, 2023 –
3pm Gates Open
4:30pm Riders Meeting
5-6pm Practice
6pm racing starts!
Saturday, January 28, 2023 –
7am Gates Open
8:30am Practice Begins
9:45am Riders Meeting
10am Racing Starts
Awards will be held at Barkers Island Inn following the race day