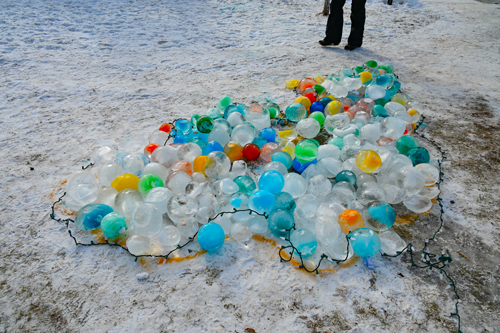 Orb 365: A Community Art Collaborative
As Wisconsin residents, we use an average of 75 gallons of water each day. That's a lot of water!
How can we help conserve our daily water use and not waste it? Pledge today to use less water daily!
Residents of Superior are encouraged to join the ORB365 community art collaborative! Participants can pledge to use less water or prevent water pollution. To symbolize their pledge, they are invited to create ice orbs for the ORB365 display as part of the 2023 Lake Superior Ice Festival.
The community goal is to make 365 ice orbs, whereas each ice orb represents a day of the year that clean water is important to us. As a community, we are pledging to protect our water!
The ice orbs will be arranged in the shape of Lake Superior.  This exhibit can be seen at Barker's Island for the Festival from Friday, January 28th through Sunday, January 30th!
Pledge examples: I pledge to pick up trash on daily walks and to recycle.
Click here for the ORB365 Webpage!
Come talk to us! 1 pm – 4 pm we will be tabling and answering your questions.  We will also have a City of Superior Sander truck for you to come and view up close!
Dates and Times
Friday, January 27, 2023 – 12pm – 4pm – Light up Orbs
Saturday, January 28, 202 – 1pm – 4pm – Visit the City of Superior Environmental Services Booth