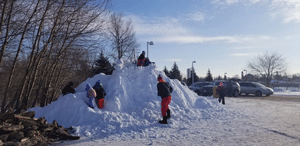 Passport Scavenger Hunt
Hey kids!  Get out to the Ice Festival to win some fabulous prizes!  All you have to do is pick an Ice Festival Passport from outside the Lake Superior Estuarium.  In it are boxes with different Ice Festival activities.  Complete each activity to collect a sticker for your passport.  Once you have a full (or mostly full
) passport, be one of the first 200 kids to visit Barkers Island Inn to collect your prize.
Here is how it will work:
Kids pick up a passport outside the Estuarium from a marked plastic tub.
They go around the island and participate in the activities happening.
Once they have participated, a volunteer or person running that activity will give them a sticker, stamp, or punch to put on their passport
If they fill their passport (or most of it), they bring it to Barkers Island Inn to collect their goodie bag prize.
This will be happening from 10am-4pm on Saturday the 30th.