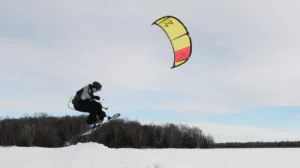 UMD Recreational Sports Outdoor Program – Kite Skiing Demo
Harness the power of the wind!
Did you know…
Frozen inland lakes and the St. Louis River Basin near Duluth offer steady winds and open spaces for you to explore the excitement of snow kiting.   The concept behind snow kiting is very basic: use the power generated from a large controllable kite to propel yourself across the snow or ice while riding a snowboard, alpine skis or even ice skates.  Kites come in many sizes for use in specific wind conditions and are designed with open cell foils or inflatable chambers. Equipment consists of a kite, lines, control bar, harness and helmet.  A Minnesota winter is the best time to learn the basics and snow kiting skills are very useful for those who wish to pursue kiting on the water. Come on out and see it live in action!
Dates and Times
Saturday, January 27, 2024 – 11am – 2pm